A lie… Is it all a lie? Ever since humanity stepped from having a nomadic lifestyle and settled into agricultural societies, we have had the need for control. On its basic manifestation, control was meant to keep us from using violence in the name of free will.
Control was meant to tune our free will in the same frequency. A frequency of love, cooperation, and respect.
Not to influence our decisions. Not to tell us what to do. And, not to preserve the power of those in charge.
To guarantee justice, equality, and liberty.
But we have departed from those values. Control has become the instrumentalization of power. It has been corrupted.
The scariest forms of control are not those that leverage violence and brute force to get you to obey; it is in our natural instincts to create opposition against tyranny. We are rebellious by design.
Coercion and brute force
Coercion and brute force eventually lead up to uprising.
The scariest forms of control are subtle. They are seductive. They are hidden in plain sight. And, they are actually pretty f*cking comfortable.
The worst part? They make you feel entitled to them. They make you protect them.
These mechanisms of control lie deep at the very foundation of our societies. They're integral for the maintenance of the status quo. And you can see them everywhere, from your nuclear family to the state.
They are in the performance bonus you'll get at the end of the year at the corporation.
They are in the inheritance you'll get if you are a good, righteous child.
AND. They are in the permissions you'll get if you go through certain medical procedures.
AND. They get you into a happy, conforming slumber.
AND. They quietly silence the rebel heart that lies within you.
And while you can be perfectly happy living within the promises of a good ol' fashioned regular life, wouldn't you rather have author credits on your own future?
Episode 5: 'The Cake Is A Lie'
In Episode 5: 'The Cake Is A Lie', we discuss the different mechanisms of control that are implemented nowadays in humanity. We explore the economical means of coercion that have been normalized (and that has kept the middle and lower classes from any real chance of actual progress) and the political mechanisms that have been used to shift the course of action of entire nations.
From mortgages to mass media, we are going to be pushing the borders of the definition of freedom. Freedom of choice. Freedom of speech. And, freedom of will.
This is an episode specially designed for you. For YOU to draw your own conclusions. For YOU to question your own reality.
Not for you to believe what we are saying. Not for you to blindly believe our voice. But for you to find yours.
Listen to Episode 5 of Alchemize Your Life, available NOW on your favourite streaming platforms.
IMPORTANT: Make sure to select your favourite Podcast Platform, we are present on Apple Podcasts, Breaker, Google Podcasts, Radio Public & of course, Spotify!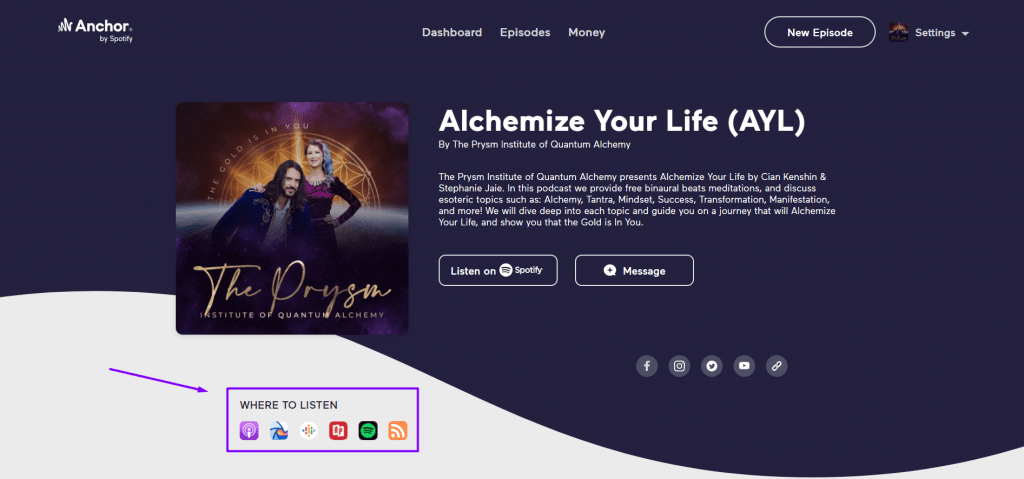 And if you want to join the conversation, join us at The Prysm Institute Of Quantum Alchemy and let us know what YOU feel about it.
We can't wait to hear YOUR VOICE.
And remember:
A gold chain is still a chain.
Rebellious love and indomitable light,
Steph, Cian & The Prysm Team