Crypto. Knowledge is power.
As we are on the verge of a financial revolution, comprehending the world that's coming to us is fundamental to ride the wave.
Crypto is giving us a chance to actually fight back. A chance to achieve financial freedom.
And you have seen the symptoms. For the last two years, the world has been turning upside down and back again. As inflation eats our savings away, the rich get richer and the middle class is being crushed by the pressure of emergency economic measures.
The legacy financial system and its governing institutions are struggling to keep up with the demands of our world. If we keep trusting them out there for our best interest we might as well give up.
Take control of your own life
Understanding what crypto is, where does it come from and what it can do for you has never been so crucial. Because we need to take the handles of our financial life. We need to become the sovereign lighthouse in a world that's succumbing to darkness.
Because once we have taken care of ourselves, we can take better care of others. And once they learn how to take care of themselves, they can give their teachings away to others.
And then we can change the world.
But Rome was not built within a day!
And you have to start somewhere.
This is why we are so devoted to laying the foundation of a new generation of wealthy, luminous, compassionate leaders.
This is why we teach everything from the ground up.
Because we deeply care about this world. And we want you to lead on to the next step of humankind.
Let's uncover what Crypto is all about
Episode 9: 'How Does Crypto Work' finds us discussing the origins of cryptocurrencies as we know them. We build up from the very first iterations of cryptographic technologies to the modern-day's applications (your regular d*ckpics and corporate emails!), discussing its societal implications and how they piss the government off!
This is a fly-on-the-wall episode, where you'll get to learn alongside me as Cian explains to me the foundational concepts to understanding Decentralized Autonomous Organizations (more on that on the next episode!) and how they can change our world!
We truly hope this episode helps you cast the shadows away and learn the importance of cryptography, the blockchain, and cryptocurrencies!
And if you want to be part of a spiritual community discussing everything from shadow work to cryptocurrencies, investing and the occult, make sure to join us at The Prysm Institute Of Quantum Alchemy!
IMPORTANT: Make sure to select your favourite Podcast Platform, we are present on Apple Podcasts, Breaker, Google Podcasts, Radio Public & of course, Spotify!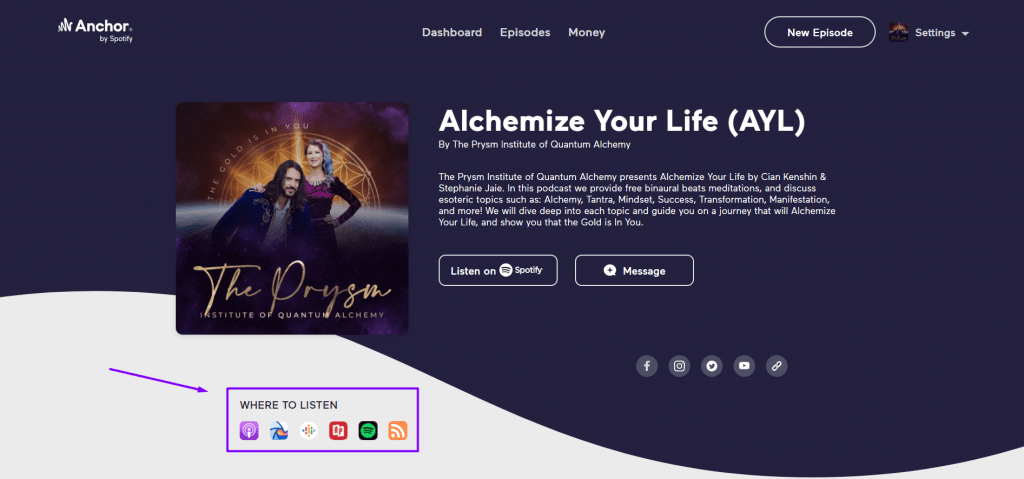 We can't wait to meet you there!
Until the next episode!
Wealthy love and abundant light,
Sophie, Cian, and The Prysm Team